Detailed Description
| | |
| --- | --- |
| Modalities | CT |
| Number of Participants | 825 |
| Number of Studies | 836 |
| Number of Series | 3,451 |
| Number of Images | 941,771 |
| Image Size (GB) | 462.6 |
There are presently 825 cases in this collection with XLS sheets that provide polyp descriptions and their location within the colon segments.  To link the XLS polyp tables with the DICOM image studies in TCIA you should understand that some cases in the TCIA are identified by long numbers with the last 4 digits after the last decimal point (e.g.: NCIA study number "1.3.6.1.4.1.9328.50.4.0040" referred to as case "40"). In addition there are a fewer number of additional positive cases that begin their identification number with 'CTC' (e.g.: CTC-5401799343)
Three related XLS spreadsheets are in this release. 
TCIA CTC large 10 mm polyps.xls - Contains the case numbers for 35 cases (out of the 825 total TCIA cases) where at least one 10mm or larger size polyp was found.  Individual cases may have several (up to 20) polyps of different sizes listed on a particular XLS row as "LESION 1.x, 2.x,3.x etc. – see "feature key" below).
TCIA CTC 6 to 9 mm polyps.xls - Contains 69 cases with smaller size polyps.
TCIA CTC no polyp found.xls - Contains 243 cases that were recorded as free of polyps by both CTC and optical techniques.
Thus in this CT Colonography collection you will be able to download the prone and supine DICOM images from OC same-day validated 243 negative cases, 69 cases with 6 to 9 mm polyps, and 35 cases which have at least one > 10 mm polyp and their histological type. Below is the key for deciphering the features in the spreadsheet.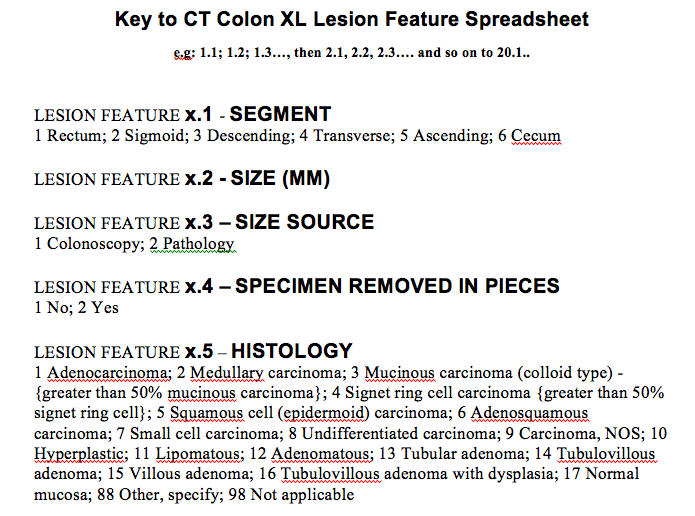 WARNING: NCI cannot assure archive users of error-free validity of the XL polyp location data since NCI did not itself perform the clinical study or its analysis.
You will note that two XLS files with positive findings have multiple columns descriptors of individual polyp lesions listed as in the table below.  The meaning of the colored columns labeled "LESION 1.1...1.2...1.3...1.4, etc" is explained in the attached key-code ".tiff" file entitled "Polyp description key table.tiff"). Some CT scan slice numbers where the polyps were found are provided, but unfortunately the table may not have complete slice number information – you'll just have to do the best you can with the data NCI was given.